Participating Artists:

Celeste DeLuna 
Yenifer Gaviña-Franco 
Gabe Garcia
Gerardo Q. Garcia 
Ana Laura Hernandez
Enrique Martinez
James Supa Medrano
Eva Marengo Sanchez
Anabel Toribio
Jorge Palacios 
Gallery Hours:

Tuesday – Thursday from 12pm – 5pm
Through August 12, 2021

LOCATION CHANGE TO:
Progreso Community Gallery
1300 Guadalupe St. 
San Antonio, TX, 78207
Office: 210. 271. 3151 
www.guadalupeculturalarts.org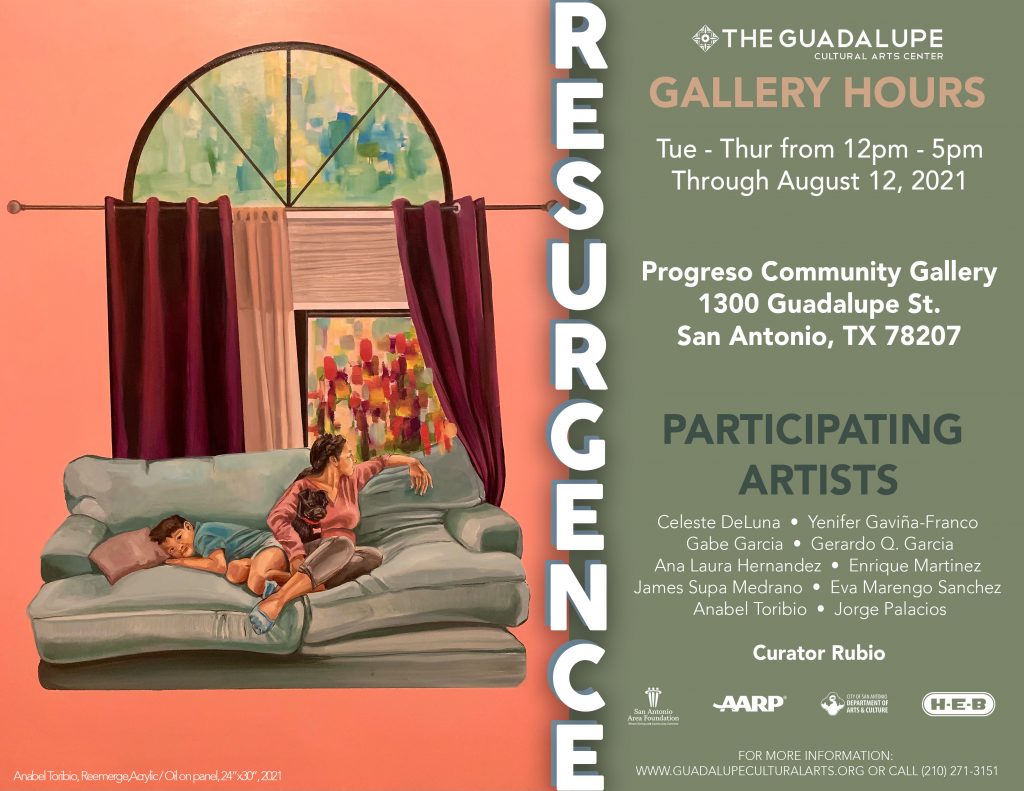 The Guadalupe Cultural Arts Center, Galería Guadalupe continues its mission to engage our creative community during this time of adaptation to distance through Resurgence.
The understanding of artistic expression at this critical period in time is evident in artwork as well as within artists during the production of creative channeling of imagery. Resurgence artists create, as means to remember narratives before 2020 as well as record personal inspiration and crucial artistic expression, during the crisis and shared challenges throughout this Pandemic
Prior to 2020, some artists may have experienced a degree of social distancing from gallery patrons, who may not have the opportunity to meet the artist during their exhibition. This Pandemic crisis may serve to inspire a possible future for artists and art patrons to once again enjoy the opportunity to reconnect with their arts community.
Resurgence artists exhibit an Imaginative and meaningful, creative action of resilience, as they document social changes from within their home studios. Their new realities serve as an artistic marker to identify past, present and eventually, envision a Post-Pandemic Art World.
– Curator Rubio