Dia de Los Muertos Community Altar Progreso Community Gallery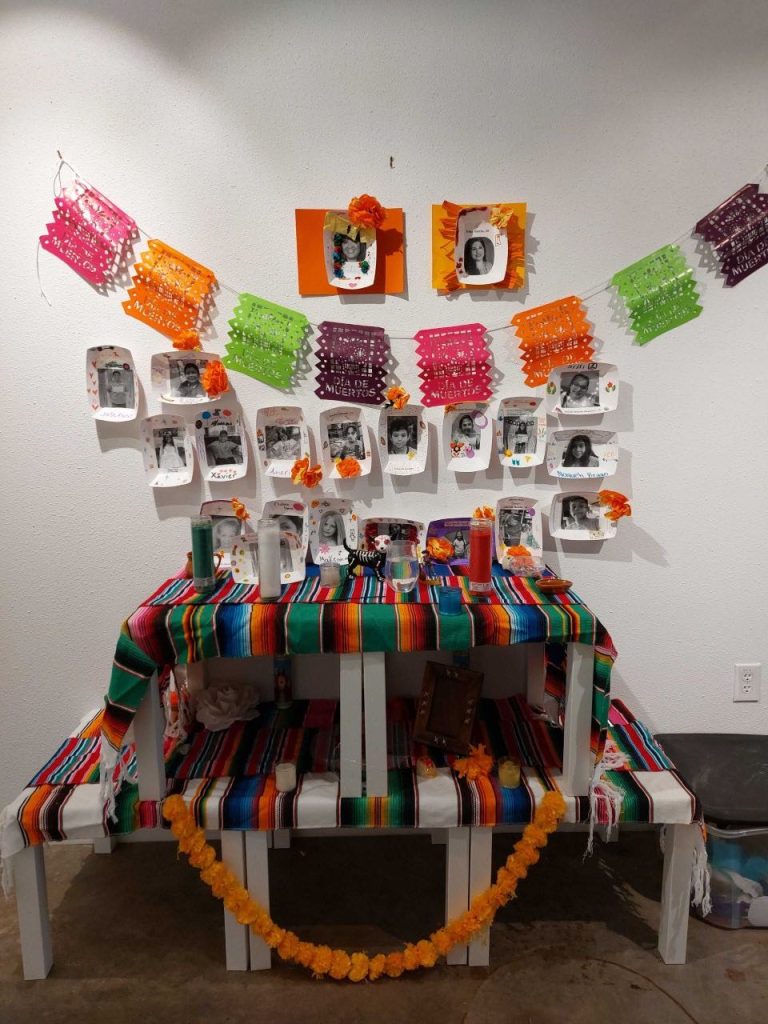 Open Tuesday to Saturday from 10 a.m. to 4 p.m. from Wednesday, Nov. 2 through Friday, Dec. 2, 2022.
Guadalupe Cultural Arts Center will have an exhibit of altars decorated with ofrendas, lined up with bright yellow marigold flowers and photos of the departed, created by San Antonio community members and area school students at the Progreso Community Gallery, 1300 Guadalupe St, across from the Guadalupe Theater.
A special altar will be exhibited by the Lanier High School Visual Arts department at Galeria Guadalupe, 723 S. Brazos. It will be dedicated to the recent passing of the victims of Uvalde, with one large desk honoring the two teachers and 19 smaller sized desks for each student.
The other small salon, at Galeria Guadalupe, will showcase Día De Los Muertos inspired photography from Rick Vasquez.
Viewing of the altars will be during Guadalupe Latino Bookstore hours, Tuesday to Saturday from 10 a.m. to 4 p.m. from Wednesday, Nov. 2 through Friday, Dec. 2, 2022.
For more information, call: 210-271-3151.
Still Here: Transitions from the Westside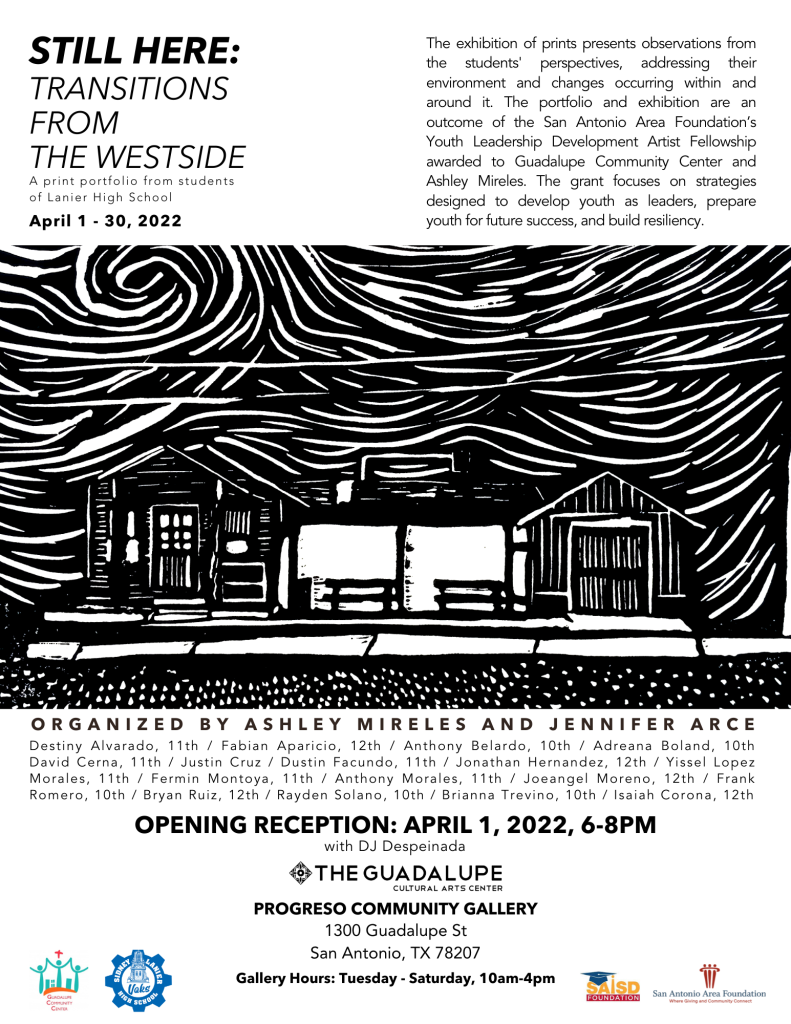 Opening Reception: Friday, April 1, 2022, 6-8pm at the Guadalupe's Progreso Community Gallery.
Organized by Ashley Mireles and Jennifer Arce in partnership with Catholic Charities Guadalupe Community Center and Lanier High School, funded by San Antonio Area FoundationStill Here: Transitions from the Westside is a print portfolio produced by students from Lanier High School. The portfolio presents observations from the youths' perspectives, addressing their environment and changes occurring within and around it. The relief print portfolio is an outcome of the San Antonio Area Foundation's inaugural Youth Leadership Development Grant and Artist Fellowship. The grant focuses on strategies designed to develop youth as leaders, prepare youth for future success, and build resiliency. Throughout the 2021-2022 school year, Artist Ashley Mireles collaborated with Artist and Educator Jennifer Arce to provide innovative artmaking skills and introduce creative careers to Lanier High School students. Encouraging experimentation and growth, students were challenged to expand their creativity with guidance in a variety of media and practices including drawing, collage, image transfer, cyanotypes, relief printmaking, documentation, and curation.

Ashley Mireles is an artist, public artist, educator, and nonprofit arts administrator focused on community access and specializing in youth and teen development for arts institutions and community spaces in Central Texas. Her work has been collected by the Walt Disney Company, National Museum of Mexican Art, Mexic-Arte Museum, Zuckerman Museum of Art, Texas Christian University Print Collection, City of San Antonio, and University of Texas Libraries Special Collections. Her work has been published in The American Statesman, Huffington Post, Mitú, and Remezcla. In 2021, Mireles was awarded an Artist Fellowship from San Antonio Area Foundation for Youth Leadership Development.