GRUPO ANIMO 2023 PRESENTS "UNFILTERED & UNSOLICITED" - 30 YEARS LATER: WE'RE GETTING STRONGER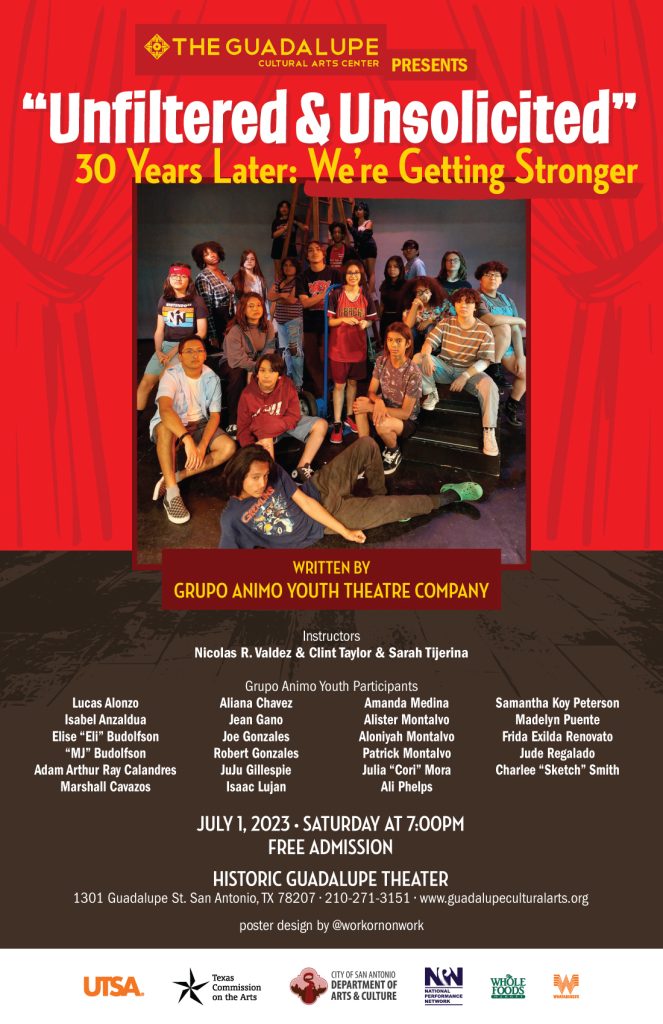 The Guadalupe Cultural Arts Center hosted Grupo Animo's 2023 summer theater production of "Unfiltered & Unsolicited – 30 Years Later: We're Getting Stronger" on Saturday, July 1st, 2023 at 7 p.m. with free admission at the historic Guadalupe Theater, 1301 Guadalupe St. San Antonio.
Grupo Animo celebrated its 30th anniversary as the Guadalupe Cultural Arts Center's resident youth theater company, founded in 1993 and consisting of youth (ages 13-18) from all backgrounds and areas of San Antonio. Under the mentorship of professional teaching artists and directors, Grupo Animo company members are guided through a four-week summer theater experience, allowing youth a platform to make their voice heard through thought-provoking, engaging and culturally relevant, performance-based teatro/theatre. Instructors this summer include Texas-based artists Nicolas R. Valdez, Clint Taylor and Sarah Tijerina. Valdez and Taylor are both founding members of Grupo Animo, who attended the first theatre production in 1993.
Grupo Animo's mission is to use teatro/theatre to instill an understanding of the value of culture, creativity, and community.
Thank you to friends and family members of Grupo Animo and Guadalupe community members for attending this free event at the Guadalupe Theater. Open seating; first come, first served. Be on the look out for more information on Grupo Animo Teatro scheduled in summer 2024! 
GRUPO ANIMO ONLINE PERFORMANCE 2020